D'you know the best time to interview a C-suite executive at a giant music company? When they've already announced they're leaving.
That way, they can be a little less tight-lipped. A little less worried about keeping the peace. A little more 'mic drop'.
That certainly applied to Warner Music Group CEO, Steve Cooper, speaking at the Goldman Sachs Communacopia + Technology Conference in San Francisco on Monday (September 12).
Cooper, of course, confirmed earlier this year that he is to exit Warner in 2023, and is currently running the major as it searches for his successor.
The exec was typically considered in his Q&A session with Goldman – but he also didn't miss the opportunity to tackle a number of industry talking points head-on and with surprising candor.

'We've reduced our dependency on superstars'
Perhaps the music industry's most head-turning quote of summer 2022 came from BMG's CEO, Hartwig Masuch, commenting on his firm's H1 financial results.
"The extraordinary thing about our first half result is that we grew revenue 25% with virtually no hits," said the German exec in August.
Masuch's "no hits" comment comes amid an ever-more fragmenting music industry landscape where new-release chart smashes – as much as every company desires and benefits from them – are claiming a decreasing share of the global market.
Look at the data: According to MBW's calculations of Luminate / MRC Data figures, the Top 10 audio streaming tracks in the US in H1 2022 were cumulatively played over 1 billion times less than they were in H1 2019 (2.74bn vs. 3.81bn).
Meanwhile, superstar artists are also inevitably taking up less market share, due to the dilution effect of streaming's global subscriber growth, plus the vast volume of tracks released each day.
---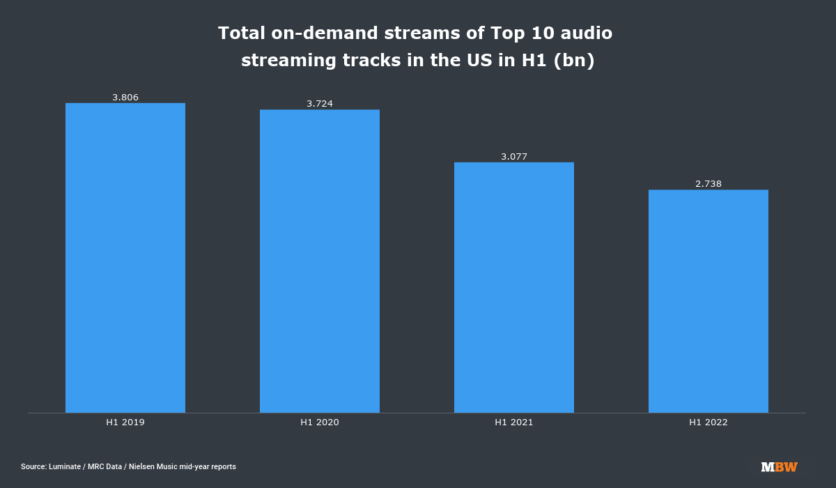 ---
Obviously enough, this changing picture affects the A&R and marketing strategy of the major music companies – namely, how much budget allocation they concentrate on established 'superstar' artists versus spreading that budget amongst a wider pool of performers.
Speaking at Communacopia on Monday, Cooper suggested that Warner Music Group is now leaning towards the latter of these two options, investing an "enormous amount of A&R resources" across a bigger number of artists than it once did – including superstars and non-superstars.
This, he said, constitutes a "portfolio" strategy that on average results in "mid to high teen [percentage] returns" for WMG.
Said Cooper: "In running our portfolio, what we've done over the last number of years is reduce our [financial] dependency on superstars. [And] reducing that dependency has allowed us to continue to reinforce our approach to A&R, which is long-term artist development."
He added: "We try and find artists at the beginning of their career, so that we can build their career with them, but [via] a set of economics that we believe are reasonable and rational, as opposed to economics that we often observe in other deals that frankly we don't understand."
"What we've done over the last number of years is reduce our dependency on superstars. [And] reducing that dependency has allowed us to continue to reinforce our approach to A&R, which is long-term artist development."

Steve Cooper
Cooper went on to reference Taylor Swift's licensing and distribution deal with Universal Music Group / Republic Records, signed in 2018, under which Swift owns the recording copyrights to albums such as Lover, Evermore, Folklore, and the 'Taylor's Version' re-records of her earlier LPs.
Said Cooper: "I don't see [Warner's] A&R [spend] growing explosively over the next few years. I don't know about our competitors but we try and be very, very thoughtful and very focused and we don't chase the heat.
"By way of example, when Taylor Swift moved from Big Machine to Universal [in 2018], she got a monster check and she got a very, very skinny distribution charge. We don't do those deals; there's not, from our perspective, the right side of economics. We don't chase big names to get a little bit of revenue and not make any money."
(Although it's known that Swift did indeed get a highly favorable margin in her 2018 digital distribution deal with Republic/UMG in the US, it's expected that Universal's margin in that deal increases with physical distribution, especially in ex-US territories. Swift has also signed global publishing and merch deals with Universal, meaning UMG is taking a share of a more holistic business with the artist than just records.)
At Communacopia, Steve Cooper also tackled the idea that record company deals with artists – especially 'hot' emerging acts – are getting more expensive.
Touching on the question of whether the monetary price of artist deals is generally rising for labels, he said: "The answer is oftentimes yes. But [those deals] are becoming more expensive because we're generating more revenue. [Therefore] obviously we're growing our bottom line, and our artists participate in that growth.
"As artists become more successful and are more important in driving growth with us, do we reevaluate their contracts and adjust? Absolutely."
Again, it's worth taking a look at the numbers here.
According to Warner Music Group filings, WMG spent $326 million on recorded music A&R (artist and repertoire) costs in the second calendar quarter (fiscal Q3) of 2022. That was equivalent to 27% of WMG's recorded music revenue in the quarter.
If you head back three years, pre-pandemic, to calendar Q2 2019, Warner spent $282 million on recorded music A&R (artist and repertoire costs).
That was equivalent to a significantly higher percentage (31%) of total recorded music revenue. That 31% figure also carried for calendar Q2 in 2018.
This fits with Cooper's claim that Warner is indeed spending significantly more money on deals than it did in previous years ($326m in calendar Q2 2022 vs. $282m in calendar Q2 2019).
But it also tells us that Warner is managing to reduce its A&R spend on recording artists as a percentage of its overall revenues.
Credit: Shutterstock/Diego Thomazini
'The DSPs will ultimately see the need to raise prices'
Steve Cooper didn't just talk about A&R spending at Communicopia. One other big topic of debate was the pricing of music streaming services.
Some in the music industry – Daniel Ek amongst them – argue that by not significantly raising the typical individual $9.99 / £9.99 / €9.99 monthly streaming subscription price, the music industry has insulated itself from the kind of subscription cancellations now hitting Netflix in a macro-economic downturn.
Others (including Universal Music Group investor Pershing Square) argue there is still headroom to raise streaming prices, without having a detrimental effect on subscriber churn.
Cooper's view very much fits with the latter category – indeed, he wants to see "regular" price increases rolling out at services like Spotify.
At Communicopia, Cooper noted that ad-supported streaming platform payouts had seen an "impact from macro-economic influences" already in 2022, but noted that he was more bullish on subscription, a business he called "very sticky".
"the value proposition [in music streaming] is unbelievable. That leads us to conclude that – particularly with the stickiness and almost non-existent churn – services can easily raise the monthly subscription by a fraction and they can do it on a regularized basis."

Steve Cooper
Added Cooper: "[One] of the things that we are beginning to see and hope to see on a regularized basis is pricing increases, in addition to just the number of people that will still be signing up for subscriptions [due to] further penetration of smartphones."
Cooper predicted that between "normal growth" in streaming subscriber uptake, plus price increases, the likelihood of the record industry sustaining double-digit YoY revenue growth in subscription streaming is "highly likely".
He continued: "When you look at the value proposition in music versus video, [it's] unbelievable. That leads us to conclude that – particularly with the stickiness and almost non-existent churn – [music streaming] services can easily raise their monthly subscription by a fraction and they can do it on a regularized basis.
"We're hopeful that given historic, current, and what I'm sure will be future discussions, the [music] DSPs will ultimately see the need to raise prices, raise them regularly, and have a more rational relationship between the price and the value that's being delivered."
He added: "When I look at the DSP models, I would conclude, fingers crossed, that those increases will come sooner versus later."
---

'We lean towards the buy-out model'
Another controversial topic in B2B music industry circles this year has been the major record companies' deals with the likes of TikTok and Meta.
In recent years, these deals have been characterized as "buy-outs", because they often see a service write a flat-fee check to a rightsholder for a blanket license to use their music for two or more years.
Some in the industry have called for the majors to unite in their insistence that these "buy-out" deals move more towards the kind of revenue-share deal they have with YouTube, where the Alphabet company pays music rightsholders a percentage of every dollar generated by ads on their content.
Meta moved closer to this revenue-share model earlier this year, announcing deals with multiple music companies – including Universal Music Group and Warner Music Group – that will see a certain percentage of advertising revenues shared with music rightsholders for certain types of UGC video on Facebook.
Steve Cooper stopped short at naming TikTok specifically but did discuss the pros and cons of these "buy-out" deals.
He said at Communicopia that in the world of "Web 2.0" Warner primarily signs two types of licensing deals: "normal subscription" with the likes of Spotify, Apple and YouTube, plus "what are essentially buy-outs, more closely associated with emerging models on social platforms".
"I think we've got a couple more turns at the buy-out [deals] before we start see to social, fitness and other socially-oriented platforms [build] enough of a history and have done [enough] experimenting to [switch to a revenue-share licensing model].

Steve Cooper
Cooper then noted that WMG tends to "lean towards the buy-out model" when it isn't "sure about the breadth and depth of how music will be adopted [on a service], and we're not sure about the growth trajectory".
In other words, it's better to bank some guaranteed money up front, than strike a revenue-share deal and watch a digital startup implode.
(When it comes to TikTok, critics of the "buy-out" structure would point out that the Bytedance platform generated $4 billion last year and is projected to generate $12 billion this year, and that it has been downloaded over 2.6 billion times globally. That's some "growth trajectory".)
Cooper added that, as emerging platforms mature past a certain point, "we and [the platform] will collectively shift from a buy-out to a use-case model, where we participate more directly in the growth of music on these emerging platforms".
When asked to predict when Warner might move from a buy-out model to a revenue-share model with certain key platforms, Cooper answered: "I think we've got a couple more turns at the buy-outs before we see the social, fitness, and other socially-oriented platforms [build] enough of a history and have done [enough] experimenting to really make that turn."
Cooper told the audience that within these buy-out deals, WMG will typically sign "a two-year contract" and then ups its price ("a step function") at each renegotiation.Music Business Worldwide